B-Sealed's office remains closed to walk-in customers. However, our warehouse is still open for collections and despatches. Extended COVID restrictions are causing delays across our logistic partners.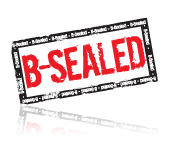 Customisations
Although we offer a wide range of bag sizes, materials, and printing types, you may have some specific requirements for your bag that our standard range doesn't cover.
You can customise the size, colour, material, printing, and security features of your bag. If this sounds daunting, don't worry - when you contact us, a friendly B-Sealed representative will work with you through the design and manufacture of your customised bag.
Circumstances will change on a case by case basis but a typical minimum order quantity for customised bags is 10,000-20,000 pieces.
Available Features
Total Transfer (high residue), Partial Transfer (low residue), Non-Transfer (no residue)
With or without release liner
Perforations
Sub surface printing
Markings, including serial numbers, barcode, logos available
Void marking text
Holographic
Water sensitive
Heat sensitive
Need help with choosing which type of seal? Chat with us or check out our comparison table:
Compare now
Site and its contents © B-Sealed Pty. Ltd.