B-Sealed's office remains closed to walk-in customers. However, our warehouse is still open for collections and despatches. Extended COVID restrictions are causing delays across our logistic partners.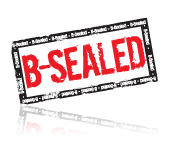 Description
X-Safe Dual-trip Tamper Evident Bags are based off our single-use bags, manufactured from the same high quality materials and high security tamper evident tape (resistant to temperature, moisture and solvent-based tampering). The biggest difference is they incorporate two sets of adhesive tape - one for the first trip, where the bag is opened by authorised personnel and re-sealed with the second set of tape. They are available in various sizes and styles suitable for a wide range of applications including document and cash transportation. The non-see-through nature of the material provides less temptation for pilferage and is more discreet.
The bags have writable surfaces, and most types have a tear-off receipt for reference. All bags are printed with unique serial numbers and most have a corresponding barcode for convenience.
Applications
Confidential documents transfer
Coins, money & cheques transfer
Duty-free & airport retail shops
Police investigation & prison
Government & medical
Key Features
Double sets of security tape for two trips
Perforations for easy opening after the first trip
Tear-off receipt
Serial numbered and most are barcoded for convenience
Writable with most markers and pens
Gold level security tape is resistant to temperature, moisture and solvent-based tampering
Customisations
Although we offer a wide range of bag sizes, materials, and printing types, you may have some specific requirements for your bag that our standard range doesn't cover.
You can customise the size, colour, material, printing, and security features of your bag. If this sounds daunting, don't worry - when you contact us, a friendly B-Sealed representative will work with you through the design and manufacture of your customised bag.
Circumstances will change on a case by case basis but a typical minimum order quantity for customised bags is 10,000 pieces.
| | product code | storage size | material | numbering |
| --- | --- | --- | --- | --- |
| X-Safe Skim Bag Clear Dual-trip | CC1723DT | 170mm x 230mm | MONO 80 (clear) | sequential |
Need help with choosing which type of seal? Chat with us or check out our comparison table:
Compare now
Site and its contents © B-Sealed Pty. Ltd.