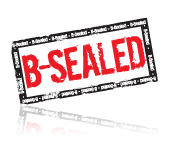 Customisations
We offer a wide range of bag sizes, materials, and printing types, you may have some specific requirements for your bag that our standard range doesn't cover.
You can customise the size, colour, material, printing, and security features of your bag. If this sounds daunting, don't worry - when you contact us, a friendly B-Sealed representative will work with you through the design and manufacture of your bespoke bag.
Need help with choosing which type of seal? Chat with us or check out our comparison table:
Compare now
Site and its contents © B-Sealed Pty. Ltd.