B-Sealed's office remains closed to walk-in customers. However, our warehouse is still open for collections and despatches. Extended COVID restrictions are causing delays across our logistic partners.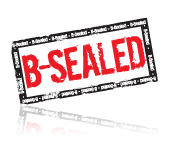 Description
The RotatoSeal 2 is a crimp-free security seal ideal for sealing small locking holes. Application is intuitive so training is minimal. No costly investment of crimpling pliers because of its tool-free design.
A larger tab has been incorporated into the design to make it easier to twist when applying the seal.
Applications
Utility meters
Transport meters
Gas & fuel meters
Telephones
Utility boxes
Key Features
Made of polycarbonate for durability and impact resistance
Twisted metal wire provides tamper evidence while its nylon coating provides a user-friendly touch for ease-of-application
Transparent body allows visual inspection of the seal's locking mechanism to confirm proper application
0.65mm diameter stainless steel cable wire of 300mm length as standard
Customisations
Colour
Other markings
Serial numbers
Minimum order quantity required.
| | product code | wire diameter | wire length | tag dimension | twist tab size | barrel dimensions | barrel height | shop link |
| --- | --- | --- | --- | --- | --- | --- | --- | --- |
| RotatoSeal 2 | RSB22 | 0.65mm including coating | 300mm | 24mm x 9.5mm | 11.5mm x 8.4mm | 22.5mm x 15mm | 11.5mm (when twist tab is broken off) | |
Site and its contents © B-Sealed Pty. Ltd.