B-Sealed's office remains closed to walk-in customers. However, our warehouse is still open for collections and despatches. Extended COVID restrictions are causing delays across our logistic partners.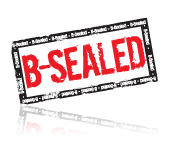 Description
The LuggageLock™ is a pull-tight seal designed to be user-friendly enough for travellers to use. It has various features that make the LuggageLock™ stand out from the competition. LuggageLock™ has successfully penetrated the travellers' accessories market and its versatility has allowed it to be spread to industrial-use applications - especially when the users applying the seals are likely to be laypersons when it comes to security seals.
Applications
Luggage
Excess baggage
Tote boxes
Key Features
A tear-off tab acts as a serial number receipt to allow the user to keep the unique serial numbers for reference instead of recording it in a logbook
A side tear-off is incorporated to the seal's body to allow users to remove the seal by hand - no tools necessary, as cutting tools are usually prohibited on flights
A stopper is incorporated in the stem to prevent over-tightening of the seal, a common mistake of inexperienced users of seals which can result in increased stress on the zipper heads as well as unintended breaking of the seal
Specifications
Standard retail packaging consists of 10 LuggageLock™ seals in a resealable pack with an insert liner containing usage instructions
Unpackaged LuggageLock™ come in a box of 1000 seals, for industrial or repackaging purposes
Also available is a specially designed wire-frame counter-top stand for point-of-sale use fits approx. 12 packs of LuggageLock™
LuggageLock™ for travellers
LuggageLock™ is a tamper evident seal used for sealing luggage so that the user will be able to detect intrusion of their luggage easily and quickly.
The seal locks the zipper heads to prevent the bag from being opened. Much like cable-ties, once applied, the LuggageLock™ cannot be unlocked without breaking the seal.
However, cable-ties look identical and may be replaced with another to hide evidence of tampering. To combat this, LuggageLock™ are all serial numbered so that every seal is unique. A record of this number is kept by the user when the tear-off tab is snapped off. The numbers on the tear-off tab may be used to match those of the sealed LuggageLock™ to determine if the bag has been compromised.
If a bag is determined to be compromised, the user must inform the authorities immediately to get the bag checked out before heading through customs where the luggage would be deemed their responsibility.
LuggageLock™ for industrial use
A stopper is incorporated in every LuggageLock™ to prevent over-tightening when applying. This is useful for situations where the seals are issued to a customer who must apply the security seals themselves (eg. excess baggage or document storage tote boxes).
The tear-off tab allows the user to keep a log of the serial numbers themselves, leading to peace of mind knowing that their items are secure.
Marketing
B-Sealed is determined to promote LuggageLock™, exhibiting in the holiday and travel expos around Australia every year since the product launch. At the expos B-Sealed staff demonstrate and explain the concepts of tamper evidence and field questions about the product from visitors. Flyers and samples are freely given out to expo visitors to encourage trialing the product and learning more about it.
A website was launched at www.luggagelock.com.au to promote LuggageLock™ and explain its concepts online, with a digital stockists directory assisting visitors in finding their most convenient stockist.
Resellers
Resellers welcome. Contact us for more information.
| | product code | minimum locking dia. | stem dia. | stem length | breaking strength | tag dimensions | shop link |
| --- | --- | --- | --- | --- | --- | --- | --- |
| LuggageLock™ Retail Pack of 10 | LU15RT | 3.0mm | 2.0mm | 150mm | 12kg | 50mm x 18mm | |
| LuggageLock™ Loose | LU15SB | 3.0mm | 2.0mm | 150mm | 12kg | 50mm x 18mm | ask us |
Site and its contents © B-Sealed Pty. Ltd.