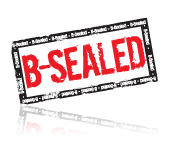 Description
Our RFID blocking sleeves offer protection for contactless credit and debit cards. Available in oversize for passports too. Lined with metal, the sleeve acts as a Faraday cage, absorbing electromagnetic waves so a contactless reader will be unable to access the card inside. The smooth plastic laminate makes it easy for the user to slip the card in and out of the wallet to facilitate transactions.
Applications
Contactless credit and debit cards
RFID access cards
ID access cards
Passport
Key Features
Finger cut-out facilitates removal of card and passport from sleeve
Tear resistant
Prevents electronic pickpocketing
Specifications
Heat welded aluminium foil with paper and plastic laminate
| | size | shop link |
| --- | --- | --- |
| RFID-SLEEVE-CARD | 91mm x 63mm | |
| RFID-SLEEVE-PASPT | 135mm x 105mm | |
Site and its contents © B-Sealed Pty. Ltd.